Losers versus Winners, Suckers versus Killers
This is how Donald Trump views the world.
The Commander-In-Chief thinks that men and women who lose their lives defending their country are "suckers," and "losers." He doesn't want wounded veterans at his parades "on grounds that spectators would feel uncomfortable in the presence of amputees. 'Nobody wants to see that,' he said." We already knew how he felt about POWs.
Welcome to the Daily Countdown. We have 59 days to go until the election; and then 78 days after that until Inauguration Day.
Don't pretend you are surprised by Jeffrey Goldberg's account in the Atlantic. The picture he paints is appalling but it is recognizable, because we have seen it so many times before. Even so, it is still shocking.
 "[John] Kelly's son Robert is buried in Section 60. A first lieutenant in the Marine Corps, Robert Kelly was killed in 2010 in Afghanistan. He was 29. Trump was meant, on this visit, to join John Kelly in paying respects at his son's grave, and to comfort the families of other fallen service members. But according to sources with knowledge of this visit, Trump, while standing by Robert Kelly's grave, turned directly to his father and said, 'I don't get it. What was in it for them?' Kelly (who declined to comment for this story) initially believed, people close to him said, that Trump was making a ham-handed reference to the selflessness of America's all-volunteer force. But later he came to realize that Trump simply does not understand non-transactional life choices."
There are legitimate questions to be raised about the lack of named sources in Goldberg's piece, but its gravamen has been confirmed by the AP and the Washington Post, which added another damning anecdote: Trump "told senior advisers that he didn't understand why the U.S. government placed such value on finding soldiers missing in action because they had performed poorly and gotten caught and deserved what they got, according to a person familiar with the discussion."
The anti-anti Trumpers aren't buying it. But even as they profess skepticism and predict retractions, they know that the accounts are most likely true because they've seen it so many times before.
This is the lens through which Donald Trump habitually views the world. Losers versus winners; suckers versus killers.
Does this extend to members of the military? Of course it does. No one has forgotten how he mocked John McCain as a POW, or attacked Gold Star families. He has suggested that soldiers in Iraq were stealing money they were supposed to distribute. As Max Boot notes, he once called avoiding sexually transmitted diseases "my personal Vietnam" and said it made him "'feel like a great and very brave soldier.'"
But Republicans eventually accepted it all. The anti-anti-Trumpers found a way to look the other way;
Trump told us who he was over and over again and they chose to simply ignore him. In the abstract, skepticism is justified, but there is a particular reason that so many on the right simply choose not to believe this new story: if this is who Donald Trump really is, then they would have to (again) confront the choices they have made.
Some distinctions are necessary.
Scoundrels call to scoundrels, and they have few moral qualms. But many conservatives think of themselves as decent people: caring, virtuous, and honorable. They are Christians, who believe in upholding the values of Western culture. They understand the idea of American exceptionalism and they have a deep and abiding patriotism and respect for the men and women who have fought for their country.
This is what distinguishes anti-anti-Trumpers from the hard-core bootlickers. The anti-antis generally have no illusions about the man's character, and even remember the many times that he has lashed out viciously at women, minorities, the disabled, and veterans. But they salve their consciences in various ways. Today they would prefer to talk about Nancy Pelosi's visit to a hair salon.
But this story is awkward, because it dramatically raises the ante. It causes a stirring in the place where their consciences have been hibernating. What if it is true that the Commander-In-Chief, who is seeking another four years in office, is a small, vicious, and despicable man, who dishonors everything he touches?
So, better to cling to doubt. Better not believe. Even if they know it is true.
Susan Glasser raises an important point when she asks "Where the hell were these sources when it happened? Did I miss the part where any of those who heard the President attack war heroes quit in protest, or went on the record to tell us about this now?"
Will they speak now? 
---
We are coming up on a grim milestone. Sometime in the next two weeks, the number of American deaths from the coronavirus will top 200,000.
A reminder of how the media marked the 100,000 milestone back in May: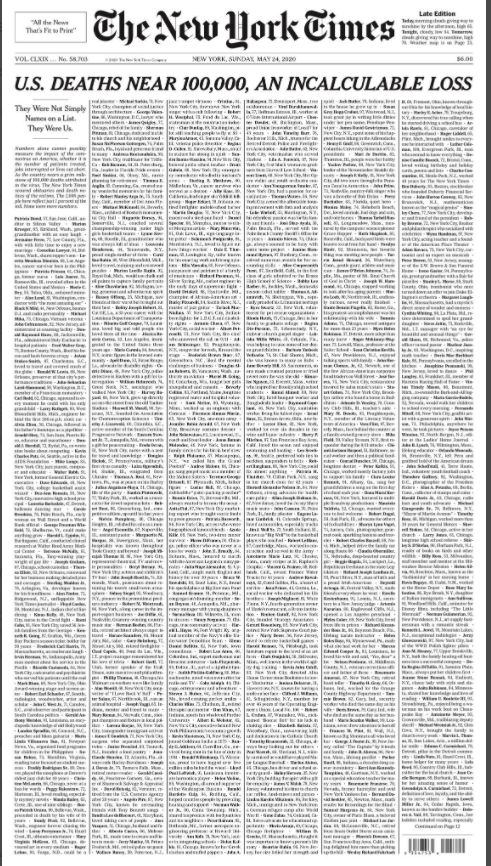 Will the media do it again? Will we start putting names and faces back on the victims of the pandemic?
---
Some good news for Trump: The economy added 1.4 million jobs in August, unemployment fell  to 8.4 percent — below 10 percent for the first time since the pandemic hit us. Expect this to be a major GOP talking point.
---
Biden visited Wisconsin… and provided a dramatic contrast to Trump.
Reflecting some of the internal debate among Democrats over the balance between animating Black voters protesting in the streets and trying to win back White working-class voters in the industrial Midwest, Biden once again opposed looting and violence but also sided with the sentiments of the street.

"I promise you, win or lose, I'm going to go down fighting, I'm going to go down fighting for racial equality, equity across the board," Biden said. "The country's ready — and if they're not, it doesn't matter, because there are certain things I ain't going to change. There are certain things worth losing over. And this is something worth losing over if you have to. But we're not going to lose."
---
Who needs Putin, when we have Trump? ABC reports: 
Russia has sought to "amplify" concerns over the integrity of U.S. elections by promoting allegations that mail-in voting will lead to widespread fraud, according to an intelligence bulletin obtained by ABC News, again echoing a frequent and unfounded complaint raised by President Donald Trump.

Analysts with the Department of Homeland Security's intelligence branch issued the warning on Thursday to federal and state law enforcement partners after finding with "high confidence" that "Russian malign influence actors" have targeted the absentee voting process "by spreading disinformation" since at least March.

"Russian state media and proxy websites in mid-August 2020 criticized the integrity of expanded and universal vote-by-mail, claiming ineligible voters could receive ballots due to out-of-date voter rolls, leaving a vast amount of ballots unaccounted for and vulnerable to tampering," the bulletin notes.
---
Even though Biden maintains a solid lead in national polls, swing state polls remain tight.
---
Are we going to get a pre-election vaccine? Unlikely. 
Moncef Slaoui, the chief adviser for the White House vaccine program, said on Thursday that it was "extremely unlikely but not impossible" that a vaccine could be available by the end of October.

In an interview with National Public Radio, Dr. Slaoui, the chief scientific adviser of the Trump administration's coronavirus vaccine and treatment initiative, called Operation Warp Speed, explained that the Centers for Disease Control and Prevention's guidance to states to prepare for a vaccine as early as late October — a notification Dr. Slaoui said he had learned of through the news media — was "the right thing to do" in case a vaccine was ready by that time. "It would be irresponsible not to be ready if that was the case," he said.

However, he described that as a "very, very low chance."
---
Some news via JVL
We've just launched a weekly show on Snapchat. It's called Not My Party. It's hosted by Tim Miller. It's really fun. You can subscribe to it here. Come for the video of Tim and Trump going at each other in person; stay for the Chewbacca call-out.

And if you don't use Snapchat, you can watch the show on YouTube by clicking here. Honestly: It's incredibly charming.

Also charming: My new podcast, The Next Level. This week's episode is out. You can listen to it here or subscribe on iTunes by clicking here.
---
Another 1968 flashback. My father (on the right) was Eugene McCarthy's campaign manager in Wisconsin. LBJ's manager was a young operative named Les Aspin (left).
Aspin, of course, later was elected to Congress and eventually was named Secretary of Defense. Despite being on opposite sides, my dad and Aspin became lifelong friends.
We have 59 days to go.